Tarpon Fishing from St. Simons & Jekyll Island GA
Tarpon Fishing from St. Simons Island and Jekyll Island Georgia is incredible during the summer months. All along the Georgia coast fishing guides gear up for this legendary Tarpon fishery each season. It is a highly sought after and addictive sport among saltwater fishermen and guides, and it's true that Tarpon fight like no other fish in the ocean. If you've never tried your hand at Tarpon Fishing, get ready to learn about fishing addiction and fun! Tarpon Fishing is the most popular fishing charter from St. Simons Island and Jekyll Island Georgia.
Tarpon Fishing Mecca – Fishermen come to this area from all over the country to book Tarpon Fishing Charters from St. Simons Island and other coastal Georgia locations. It's really no secret why Georgia is a prime and renowned Tarpon Fishing destination when you consider the size of these giant silver kings. Georgia's Tarpon average between 60-100 pounds! Once you experience the fight of a Tarpon you find out there's nothing better! The fishing action can be absolutely insane and more fun than all our trips combined! Phone anytime at (912) 275-5577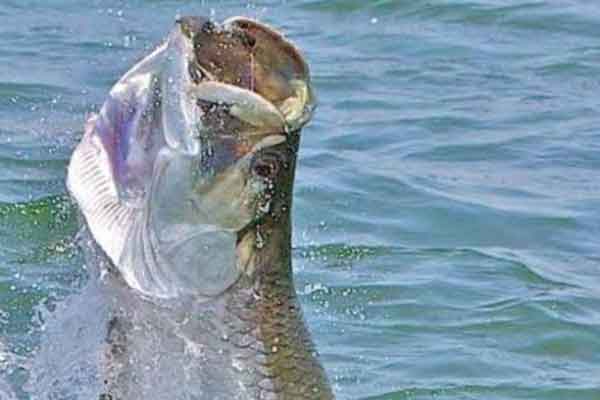 Why Book a Tarpon Fishing Charter?
If you're in the mood for serious fishing action with the chance to target the biggest, baddest sport fish in the St. Simons Island area, this is the one you're after. Tarpon are big, they fight hard and put on incredible acrobatics in the air when hooked. A 120 pound Tarpon jumping 20 feet from the boat is something you will never, ever forget. Especially if it's on the end of your line!
Fishing Guides with the proper experience target these massive fish the entire summer. Customers very much enjoy this unforgettable experience.
When is the best time to catch Tarpon around St. Simons Island?
The absolute best time to catch Tarpon around St. Simons Island and coastal Georgia is from June until August each season. Tarpon are warm water predators and prefer water temperatures over 78 degrees. Chances to catch Tarpon are greater near the new moon and full moon phases in our area.
The faster moving and higher tides during the full and new moon phases get the fish moving and feeding on the massive schools of Menhaden up and down the Georgia coast as the Tarpon bulk up after their long journey up the east coast. Due to the plentiful bait fish supply found in our area, many of the migrating Tarpon stay here all summer with the bait schools. Many of the Tarpon will continue to migrate north, but in past years we have enjoyed the incredible amount of Tarpon that stay right here around St. Simons and Jekyll Island all summer long.
For details about booking a Fishing Charter, please feel free to phone Georgia Sport Fishing Charters at (912) 275-5577 or contact us anytime!