Kids Fishing Charters and Fishing Trips from
St. Simons and Jekyll Island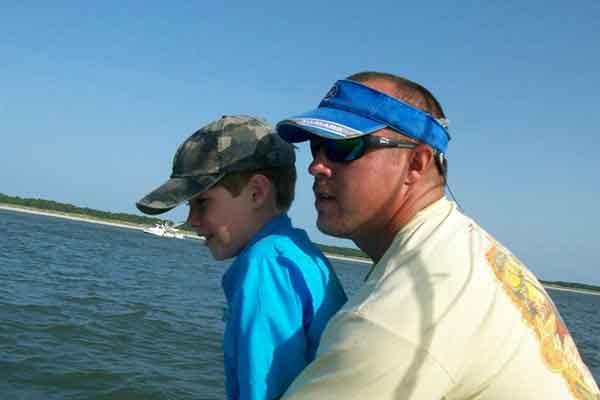 Fishing Charters for Kids from St. Simons Island. Take a kid Fishing and put a smile on their face! In this photo, JP tangles with and lands a 50 pound Finetooth Shark
Our Kids fishing trips are Kid tested and parent approved! Our children are the future of our fishery and it's important they learn about it while having a great time doing it. As parents, we are aware of their needs and we provide a safe atmosphere for children on our fishing trips.
Possibly the most important aspect of a Kids fishing charter is to keep them on good fishing action! There's nothing better than seeing the smiles on their faces while watching them catch a big fish.  Kids seem to enjoy Shark Fishing more than any other trip and the fish are always very cooperative with providing great action only a short distance from the dock.
We'll engage them in many ways and they really have a great time learning their way around the boat, helping catch bait and the like. We enjoy showing them how we operate the boat, and allow them to drive the boat and we teach them a whole lot about fishing during their short time with us. Also, we allow them to handle the fishing equipment and teach them to cast where applicable so they see the results of their achievements right away. They'll never forget the fishing trip that mom and dad took them on down at St. Simons Island… We'll make fishermen and fisherwomen out of them, guaranteed! See a few photos below from some of our Kids fishing charters this season.  For fishing charter information, please phone 912-275-5577 or send an email using our quick contact form found here.