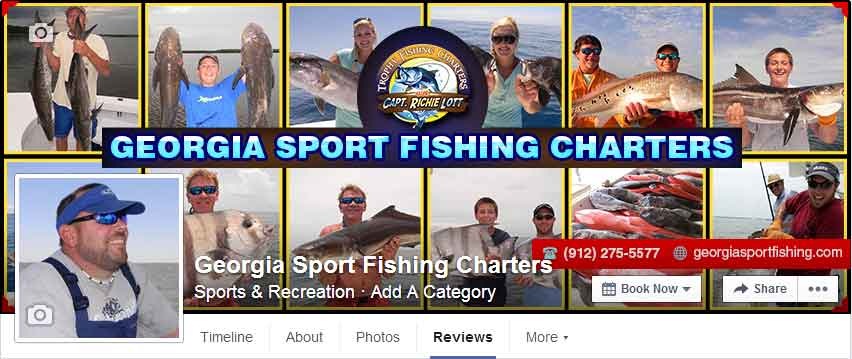 Completely unedited customer reviews. Georgia Sport Fishing Charters is a 5-Star Rated, local Fishing Charter and Guide service located near St. Simons Island and Jekyll Island Georgia. Below are only a few reviews, unedited from our customers. Learn more about Fishing Charters and our Company or Phone anytime at (912) 275-5577

Tonia Chad Guthrie

Top notch guide here. Captain Josh had us on the fish within minutes of turning the motor off. Not only did we catch a lot of fish but had a great time with an excellent guide. Can't wait for our next trip.

Will Thomas

My family and I went out with GSFC and Capt. Josh Cook over Spring Break and had an amazing experience. Capt. Josh was extremely responsive as we communicated planning the trip. Once we were on the water, Josh did an outstanding job of talking us through all aspects of the trip and was extremely knowledgeable. On top of that, the Captain was wonderful with my two young boys and made them very comfortable. In all, we caught 5 Bull Reds, 4 Black Nose Shark, a few Whiting and a Stingray. Needless to say, my family will be fishing with RIchie and Josh again in the near future.

Brian L Close

Georgia Sport Fishing Charters provided me an my family an EPIC day of fishing. We (my wife, kids ages 4 and 6, and myself) caught several big Reds, and loads of different sharks. Georgia Sport Fishing Charters, impressed me immediately over the phone after calling other charters. Capt Josh who works for Georgia Sport Fishing Charters was great and full of positive energy, and patience with my kids. I couldnt have been more impressed. Thanks Brian Close

Bob Lawson

Thank you Georgia Sport Fishing Charters and Captain Josh Cook!!! What an awesome trip for my boys and me! I highly recommend Captain Josh if you want to catch giant bull reds. He was great with my boys and we are ready to go again! Highly recommended!!!

Steve-o Bolick

Had a super great time! My family and I had a blast! Capt Josh is the man! Thanks for a great experience. We couldn't have asked for a better day today

Amber Spivey Purcell

Been fishing for Redfish along time . I have never been on so many Bull Reds in my life ! Georgia Sport fishing put us on 51 Bull Reds! We had an amazing trip ! First class all the way ! Capt Ritchie and Capt Josh are true professionals who love their jobs and it shows! Can't wait to get back on the boat with those guys again!!! Thanks for a great time! Charlie and the gang !!!

Nolan Kennedy

Wind and rain didn't stop Captain Cook from a record day for my son and I. 30 Bull reds caught, doubles multiple times. Awesome!

Matt White

Great day catching Bull Reds with captain Josh Cook. 5 Bull Reds between 40 – 55 lbs. on just a 4 hour trip. Josh is a knowledgeable captain and loads of fun!!

Douglas R Lund

My son Sebastian and I went fishing with Capt. Joshua Cook this AM. Capt. Josh is an incredible guide and great overall guy, and put us on some monster Bull Redfish. He helped me create the perfect father-son fishing outing and an experience that my son and I will always treasure. We'll be fishing with GA Sport Fishing Charters again!

Georgia Kellogg

Captain Richie and his first mate Josh are an amazing team and we are looking forward to fishing with them in our tournaments and other fun trips!! This is a duo that truly knows their fishing!

Daryl Lott

Captain Richie and his first mate Josh are an amazing team and we are looking forward to fishing with them in our I think it's awesome. My brother took in a lot and knows from 25 years of experience as a master Capt on how to catch fish. This is this the one you'd want to trust on having a good fun day on the water and almost guaranteed to catch fish. You will not at all go wrong in any way, shape or form from having a blast. Well worth the money and the relationship you will build in just a short mount of time that you would want to go again with Capt Richie Lott.

Kevin Mitchell

This could not have been a more awesome weekend thanks to Captain Richie and Josh. Not only was the weather picture perfect, we caught 13 trophy size Bull Reds between 30 and 50 pounds each! Thank you gentlemen for showing us a wonderful time!!

Michael Miracle

Had a blast this morning catching some beautiful bull redfish with Capt Richie & 1st Mate Josh Cook. All I can say is "Great guys ensuring their clients have a SUPER time!". I highly recommend Georgia Sportfishing Charters to anyone looking to further their outdoor adventure in coastal Georgia waters. They work hard to make sure their customers have the best possible fishing experience. If you're looking to book a trip with an experienced, friendly & professional guide, don't overlook these great guys!

Heather Woods Daniels

Best fishing trip you'll go on. Capt Richie is very personable and very fun to fish with. He knows his business! We caught one bull redfish after another for a good portion of our trip. Fun day! I highly recommend booking a trip with Capt Richie and his deckhand josh. If you're looking to have a good time while fishing and catching big fish, there's no other I would book. Thank you both for the everlasting memories of my biggest fish ever!

Micheal Jones

Capt Richie and Josh made for a great trip. Kept rods bent all day and were a pleasure to be around as well. Professional approach in all aspects. Both my sons landed their first Tarpon along with as many sharks as we wanted to catch.

Cynthia Mullins Watts

Today was by far, one of the best days of my life. First time ever on a deep sea fishing charter and I'm hooked. Capt. Richie Lott and Josh Cook of Georgia Sport Fishing Charters were amazing to fish with. They are both very knowledgeable about fishing and more than willing to share their knowledge, and made me and my husband feel safe and comfortable. I was scared when I first got on the boat and told my husband, "We are never getting a boat" but soon after I caught a Black Tip Shark, adrenaline and excitement took over and the fear subsided. Guess what…as soon as possible, we are getting a boat. Thank you so much Capt. Richie and Josh for an unforgettable, amazing and exciting adventure of a lifetime. See you again next summer!!!!!!

Dustin Koon

Went fishing with Capt. Richie and Josh this week! Officially hooked on salt water sport fishing! 1st class operation from start to finish! Will definitely be a repeat adventure!

Rhea Norris-Baker

Headed out with Capt. Richie and Josh on May 10. These guys FAR exceeded my expectations. Extremely knowledgeable and very helpful in making sure we on the boat had the greatest chance at success. The Capt. was relentless in his search for fish and knew when to target different species based on the tide. I can't wait to get back down there and hook up with them again.
I highly recommend them if your in the South Ga area. You will not be disappointed.

Ken Welks

If you want to have fun on a Fishing charter and catch fish then Capt Richie is the best in the area. The boat is nice and he knows whats going on with the fish. I highly recommend him and he has been fishing that area for like 30 years. Just ask anyone who has fished with him or read the other reviews and you will find the exact same things. Quality.

Ellen LaBau

Wow, what a great 6hr. Bull Red fishing trip we had with Capt. Richie and first mate Josh. I mean these two professional guides put us right on the fish all day. We had a great conversation in between fish which made it very comfortable to be with them. The quality of care Josh gave these Bull Reds…to make sure each one got back in the water after photo's was i site to see. He made sure they all were safe. My wife and i are already talking about our next trip with Richie and Josh…. Tight lines to both of you for a job well done.
Thanks again
Jim and Ellen from N.J.

Corey Fort

Smoothest run Fishing Charter operation I have ever seen. These guys are far above average fishing guides and they know what they are doing. We have a home in PA and in Naples FL so we have been on charters many times. I can tell you these guys are different from any our family has ever fished with. I am so glad we booked this trip and we all felt like we had known Captain Richie forever. He is the real deal! He and his first mate Josh work together like clockwork. This is by far the best fishing charter we have ever been on. They made it fun and we caught large sea bass up to around 4 pounds on jigs. What a day Captain! We will see you again soon. We highly recommend these guys. You will not find a better guide or charter operation anywhere that I am aware of.

Mike Kinsaul

Went bull red with capt.richie and first mate josh today these professional guides are the best there is by far had a great day . If you are looking to catch quality bull reds look no further you have found them. Thanks guys awesome day

Tony Kramar

Had a great time fishing with Capt. Richie and his mate Josh. They put me on the Bull Reds and made my trip. Can't wait to get down there and fish with them again.

Tabatha Abbassi

Captain Richie is one of the BEST charter captain's in northeast Florida. His 30 years of experience ensures you'll have one of the best fishing trips of your life! He's very professional and will do everything he can to ensure you have the best fishing experience possible!! I highly recommend you book a charter with Captain Richie/Georgia Sport Fishing Charters..you will be happy you did!!! Georgia Sport Fishing Charters offers both inshore and offshore fishing trips. I will never book a charter with anyone other than Captain Richie Lott because he's the BEST!!!

Whit Azlin

Wow what a fishing trip. I have been out with a few captains on the Georgia coast and have never had half as good experience as we did with Richie Lott .. He spent most of our trip spending 1 on 1 time with my kids. I will never fish with anyone else ever again. He understands that kids is our most valuable resource. We put more fish in the boat in a hour than I have seen on many all day trips. I can't wait to book him again. My kids are still talking about the bull red that Richie put them on. Great guy, great trip, lifelong customer.

Regina Limmer

I've had the pleasure of fishing with Capt Richie Lott many times. Inshore, nearshore, offshore…he definitely knows how and when to put you on fish! Fishing is his passion. If you're ever in the Saint Simons-Jekyll area, book a charter! You'll be glad you did. Highly recommended

Meredith McGee

The best fishing anywhere is with Captain Richie Lott! Whatever you are looking for whether it's inshore: redfish, trout, whiting, a fun black tip shark or offshore: amberjack, grouper, sea bass, snapper whatever you're after he will put you on it. Great times and exciting fishing… Make for the best day! Fish On!!!!!!!!!

Van Alexander

I have been Fishing with Captain Richie Lott for many years now. Growing up in Georgia and living in Florida for the past 20 years, I have had a lot of experience fishing with Captains of Charter Fishing Boats. I can say without a doubt that Richie is the "Best Captain," that I have ever been around. His knowledge is not limited to 1 or 2 species of Fish to be targeted either. Offshore or Inshore, he can cover all the bases & will put you on the Fish…..Big Fish! I can't wait to schedule another trip with him, this time with my "Little Boys." to catch a Memory that will last a Lifetime! He is the "Best in the Business Bar None!"

Andrea Karner

The best time I've been fishing was with Capt Richi and First Mate Josh. They were very professional and also knew exactly where to go to catch those nice bulls. It was the perfect day!!!!