Learn all about Coastal Georgia Fishing Charters & Fishing Guides
Welcome to Georgia Sport Fishing Charters! Here you can learn all about fishing charters and fishing trips from St. Simons, Jekyll Island and Brunswick Georgia. Saltwater fishing in coastal Georgia is a favorite american past time and one of the best ways to spend time with family, children and friends. Enjoy a half day or full day fishing charters from St. Simons Island or Jekyll Island Georgia with our full time, friendly and highly experienced fishing guides native to the St. Simons and Jekyll Island Georgia area. Read all the info below to find answers to common questions about fishing charters here on the Georgia coast. Here we go, let's go Fishing!
Also, you can learn more about Georgia Sport Fishing Charters here. The company is recognized nationwide serving customers in coastal Georgia for more than 27 years.
Our fishing guides will have you hooked on fishing and you'll have new friends when you leave our boats! Fish with us once and you'll be back to fish with us year after year, guaranteed! We enjoy watching others catch fish and take pride in being number one. We always provide you and your family or friends a fun and friendly fishing environment while catching a few fish and enjoying your day on the water. That's what it's all about! You can also learn more about our charter boats.
What is the best time to book a fishing charter?
The Georgia coast offers fishermen year round fishing opportunities. Fishing charters are available during spring, summer, and fall. Fishing in Georgia is highly productive for larhe game fish and sport fish and the Jekyll Island and St. Simons Island Georgia area boasts a truly amazing fishery that we would love to share with you. Read on as we reveal information and answer some common questions about Georgia saltwater fishing charters including what to expect, how we fish and where we go to catch fish.
Fishing in Georgia yields big fish!  See what's biting and when!
The spring season "kick off" happens in April each season. The Georgia coast is recognized across the country for superb saltwater fishing. The pristine, nutrient rich local waters here offer fishermen opportunities to catch huge Bull Redfish in the rivers and bay or beach side areas near the Ocean. Light tackle trophy size Redfish fishing is a specialty of ours. A personal passion to pursue Redfish over 45 pounds is our trademark. These monster size Redfish are caught only minutes from the dock at the edge of the Bay and Ocean. This is our most popular fishing trip hands down and are mostly caught near Jekyll Island.
Summer season fishing in Georgia with your family is often action packed and always fun! Get your crew together and head down to St. Simons Island or Jekyll Island for our spring or summer season fishing and get a huge bend in the rod and you will have a real chance at catching fish of a lifetime! Book a fishing charter for Tarpon Fishing and Black Tip Shark Fishing with live bait. This can be some of the most insane fishing action you've ever witnessed! Fishing in Georgia with your kids, family and friends is a top activity for visitors to this area.
Fall fishing season in coastal Georgia offers a lot of everything. When the weather is cooperative we fish for giant Bull Redfish in the Bay, river mouths and beach side areas as well as Tarpon near the beaches and along the Bays too. Offshore we target Cobia, Sea Bass, Trigger Fish, Amberjack and more!
Common questions about Fishing Charters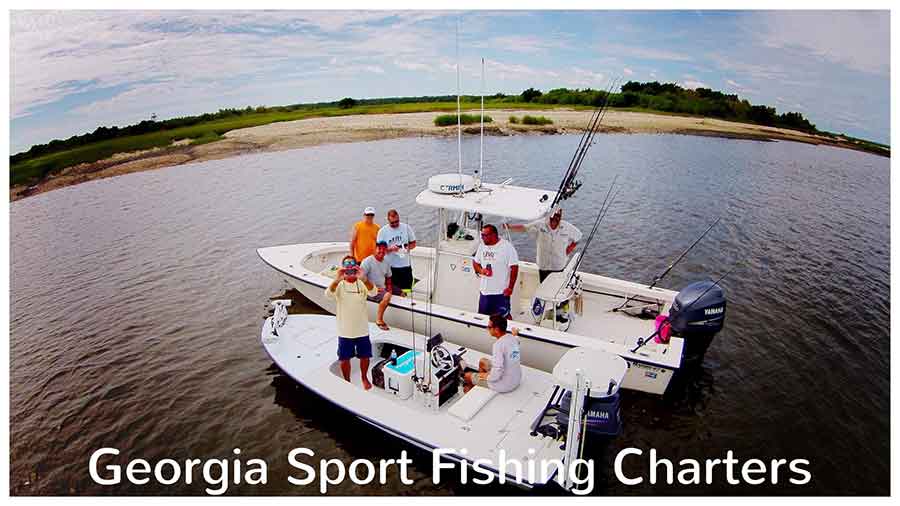 Should we book a charter for morning or afternoon fishing? Whether you book a fishing charter for the morning hours or the afternoon hours, the fish are normally cooperative on either trip. We work with you and your schedule for your convenience while considering other factors like tide and wind which we will discuss with you when booking your trip.
How far out do we go? During the spring, summer and fall months we often fish in the ocean and outer edges of the bays and sounds. In some cases, we fish up to several miles offshore of St. Simons, Jekyll Island and Cumberland Island. Much of the decision on where we fish depends on recent activity from previous trips which will help us determine what we do on the day of your fishing trip. We're looking to offer you the best chances at catching good numbers of quality fish and most of all having a good time doing it!
What's the difference between Inshore and Offshore Fishing?
Inshore fishing — Inshore fishing normally means fishing for speckled Trout and Redfish with light weight spinning gear with live and artificial bait. We also fish for huge bull Redfish up to 50 pounds in local rivers and bays that are also considered inshore fishing locations. As a whole this type of fishing normally takes place in the marshes and 'back water' estuaries of rivers and bays that engulf coastal Georgia. The best times for inshore fishing charters is during cooler months like September through December. However, inshore bull Redfish trips are available from April until November.
Offshore Fishing — Also known as Deep Sea Fishing in some cases. Offshore fishing normally means open water fishing off the beached. We're always on the hunt for large size fish using medium size gear in open water bays and beaches that border the Atlantic Ocean. In the warmer months, we fish in the ocean or near the ocean for species like Tarpon, Sharks and Bull Redfish. As summer turns to fall, we spend more time fishing inside the bays and sounds as the fish move inshore, but we still may fish the edges of the ocean depending on where the fish are located at the time of your trip. See more about offshore deep sea fishing here.
Your Georgia Fishing Guides – When you book a fishing charter you'll be fishing with the Capt. Richie Lott or Capt. Josh Cook. We do not book trips and have someone else run the trip. We don't book directly for other fishing guides unless a group charter is booked requiring multiple boats at the same time and date. Capt. Richie has owned and operated a family owned, local charter fishing business for over 25 years in this area and knows the business very well.
What do we bring with us on a fishing trip? All you will need to bring along is lotion type sunscreen, snacks and drinks for the day. We will provide a large, iced down cooler for your personal food and drink items. Your fishing licenses, permits, bait, ice and fishing tackle are all provided. We are licensed by the US Coast Guard with several blanket fishing charter licenses purchased from the state and federal government. We strive to make it easy for our customers. Come get on the boat and go fishing, literally!
Do a lot of people get seasick? The answer is actually no. The thing is, if you are unsure about sea sickness or if you're prone to getting sea sick simply purchase some Bonine as opposed to Dramamine. Bonine will not make you drowsy and it is very inexpensive with no negative side effects. If you're not sure if you get seasick and to ensure you have a good day fishing, it's better to be safe than sorry.
We make life long customers on every Fishing trip
In closing, we would like to add, there are many subjects that we did not cover here, obviously. The article would be far too long for that. However, the main thing to keep in mind is when you leave our boat you'll not only have a superb day and a great time, you will also have new friends. If you fish with us once, you'll come see us again and again. Come see why we hold a 90% repeat customer rate! See our customer reviews to find out what others say.
Georgia Sport Fishing Charters has been locally owned and operated for over 25 years and your fishing guide is native to this area as well. During this time, we have taken pride in providing top quality, fun fishing charters from St. Simons Island and Jekyll Island with a friendly, relaxed atmosphere making you feel welcome on each and every trip. Thank you for looking through our site.
Contact us anytime @ 912-275-5577 or use our quick contact form to send an email message directly with any questions.