Jekyll Island Fishing Charters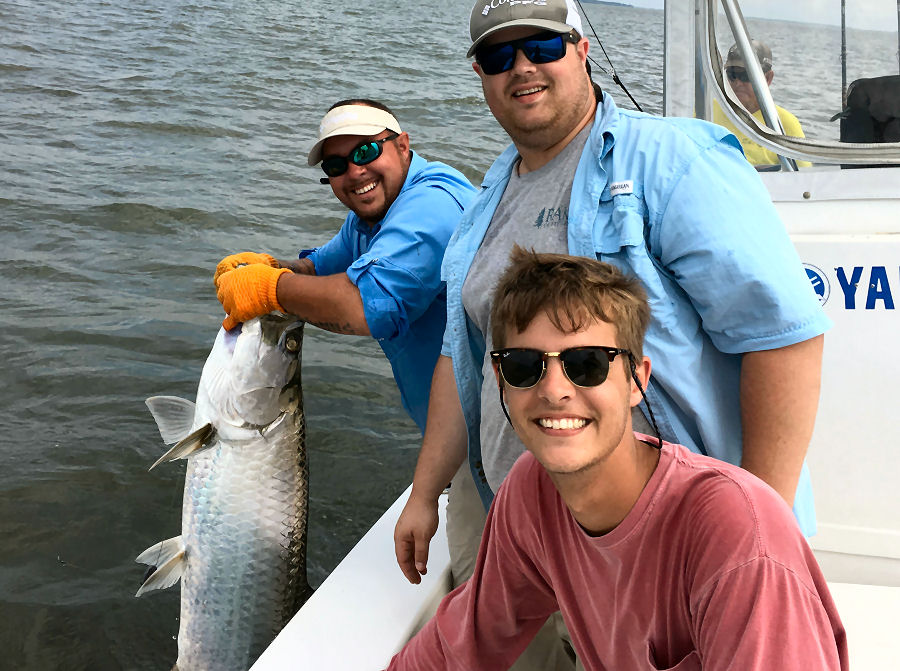 Jekyll Island Fishing Charters presents saltwater fishing at its finest. Jekyll Island Georgia provides an excellent fishery with vast waterways and open bays reaching into the Atlantic Ocean. The fishing here is recognized across the country. We offer fishing charters at Jekyll Island for deep sea fishing, inshore fishing and offshore fishing.  Some of the best fishing at Jekyll Island is found along the beaches, bays and rivers that surround the island which supports a variety of large game fish species during Spring, Summer and Fall.
Since 1991 we have provided quality fishing charters from Jekyll Island for Redfish, Shark Fishing, Tarpon fishing, Triple Tail fishing and much, much more. Many of these fish are very large and super fun to catch on rod and reel! Our Jekyll Island fishing charters provide the highest level of quality and experience available in the area with fishing trips for all ages and skill levels.
Jekyll Island is the capital of saltwater fishing in coastal Georgia. The Island has been a fishing charter destination for visiting fishermen and families for decades due to the fish rich waters found on all sides. Book a fishing charter with our friendly full time Jekyll Island fishing guides in a relaxed and fun fishing atmosphere on our charter boats. Most of the fish we target and catch are very large in size. As native fishermen to the area with over 25 years of guide experience, we fish the waters around Jekyll Island Georgia over 150 days per year to keep our customers in the action and on the bite! To book a half day or full day fishing charter on Jekyll Island, phone anytime at (912) 275-5577
Jekyll Island Fishing Charters information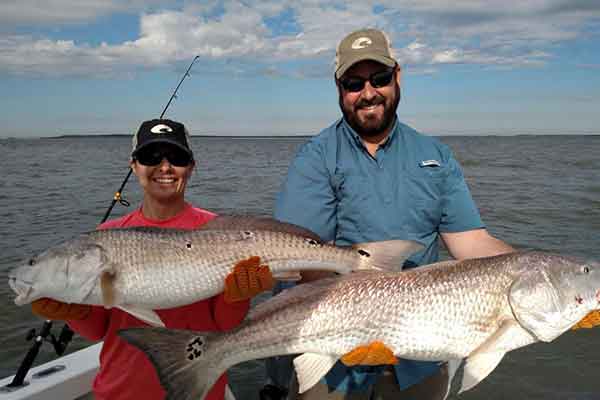 The decision to book a fishing charter is a serious one and we're dedicated to earring and keeping your business. Jekyll Island is an excellent destination for visiting fishermen, families and children. Come on down and let us show you the fishing trip of a lifetime! Please note that Capt. Richie Lott and his team of fishing guides are local and pride themselves in offering some of the best fishing charters in the coastal Georgia area. Period. See our Jekyll Island charter boats and Fishing Report or Contact us for info
Types of Fishing Charters available
The rich saltwater fishing habitat that engulfs Jekyll Island are loaded with some of the most popular and largest saltwater Fish species found on the Georgia coast. Our team of professional local fishing guides know and understand these waters very well. We target each and every species that roam the creeks, rivers, bays and the ocean at Jekyll Island. This part of the Georgia coast is truly an amazing fishery with nearly year round fishing. In general, Georgia saltwater fishing hits the peak fishing season from April through November each year.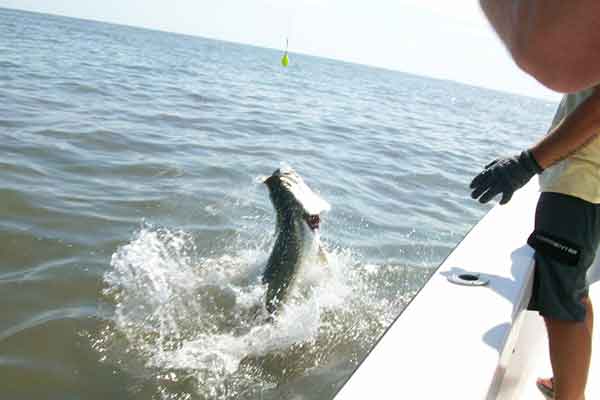 Jekyll Island Tarpon Fishing
Jekyll Island Fishing Charters for Tarpon is fishing action like none other found anywhere in the nation. Tarpon fishing near Jekyll Island is absolutely incredible from June until September each year and is our specialty.
Catch a 100 pound Tarpon from Jekyll Island! This is a high possibility if you fish with an experienced fishing guide like Capt. Richie Lott and his co-captain Capt. Josh Cook. Tarpon fishing action is like none other! Contact us today to get on the books for Tarpon season.. Phone anytime at (912) 275-5577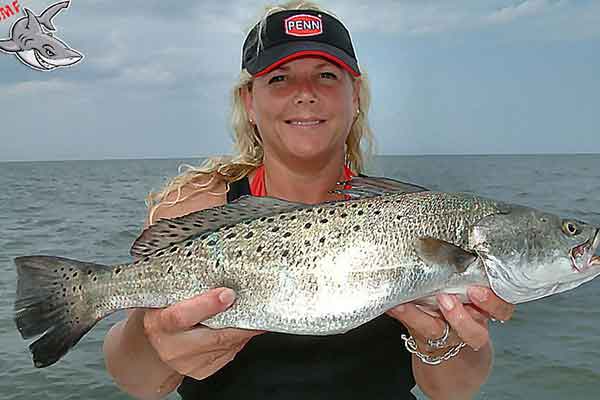 Jekyll Island Inshore Fishing
Speckled Trout Fishing from Jekyll Island is best in the fall season. The stained colored water and endless miles of Marshes around Jekyll Island offers a pristine environment and ecosystem for dozens of saltwater fish and plenty of bait fish and shrimp to accommodate their eating habits. This type of inshore fishing environment is the home of thousands of Speckled Trout and Redfish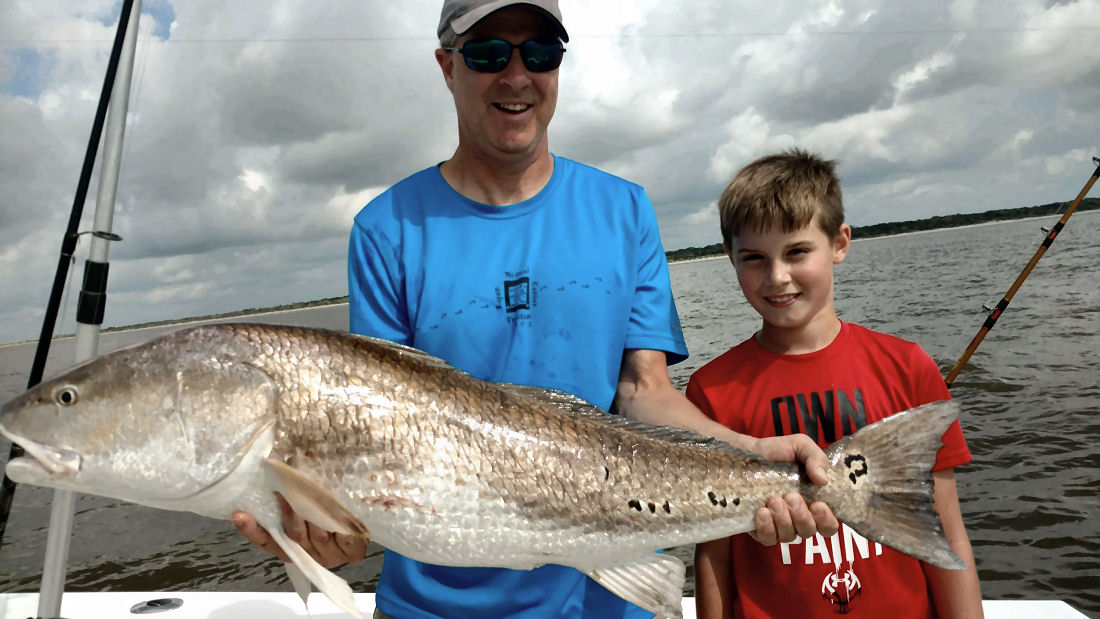 Jekyll Island is home of the giant Georgia Bull Redfish
Jekyll Island Fishing charters for Redfish is recognized nationwide. Redfish grow to enormous size in this area. The hunt for monster size Redfish is our trademark charter on Jekyll Island. These monsters provide customers the chance to catch a bull Red up to 50 pounds and give fishermen a memorable fight with violent head shakes and drag screaming runs on spinning gear. Jekyll Island is known as the Redfish Kingdom and holds the title for Redfish of this size. These monster reds
Bull Redfish are caught using light/medium Fishing tackle and it's fishing fun like none other you have experienced. Coastal Georgia Redfish are some of the largest available anywhere in the United States. See more about our Redfish Charters.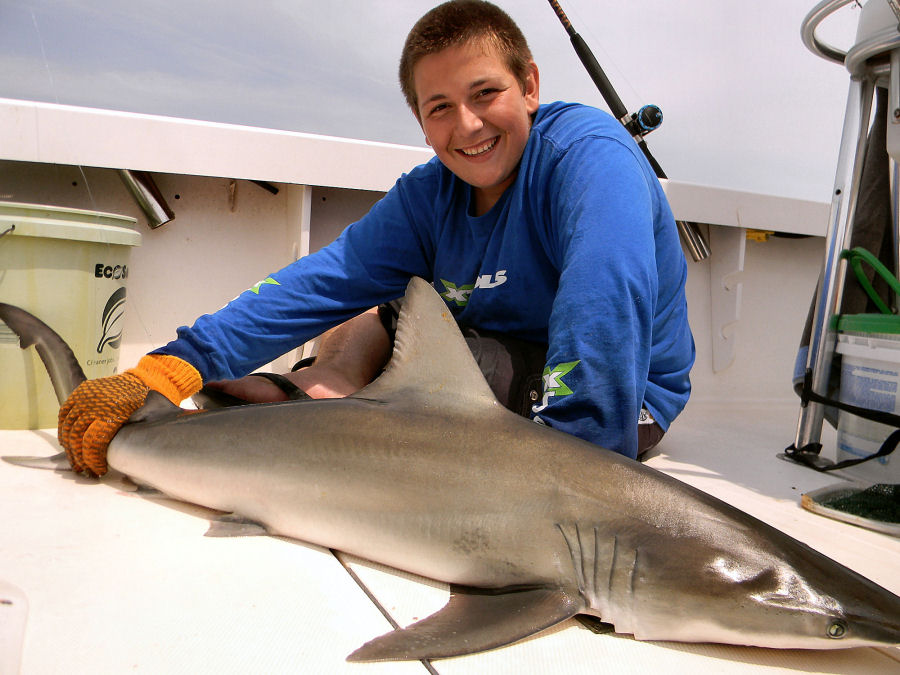 Jekyll Island Fishing Charters – Shark Fishing
Jekyll Island Shark Fishing charters is fishing action like you have never witnessed during the summer months. Black Tip Sharks and Spinner Sharks are the predatory game fish most targeted by Georgia saltwater fishing guides.
Catching these unpredictable fighters is the thrill of a lifetime for many anglers. These large sharks range from 50 to 125 pounds on average. When hooked they put on and aerobatic show like none other! Great fun and all but guaranteed good fishing, try your hand at taming a Black Tip Shark or Spinner Shark at Jekyll Island this season! Contact us anytime for info on any trip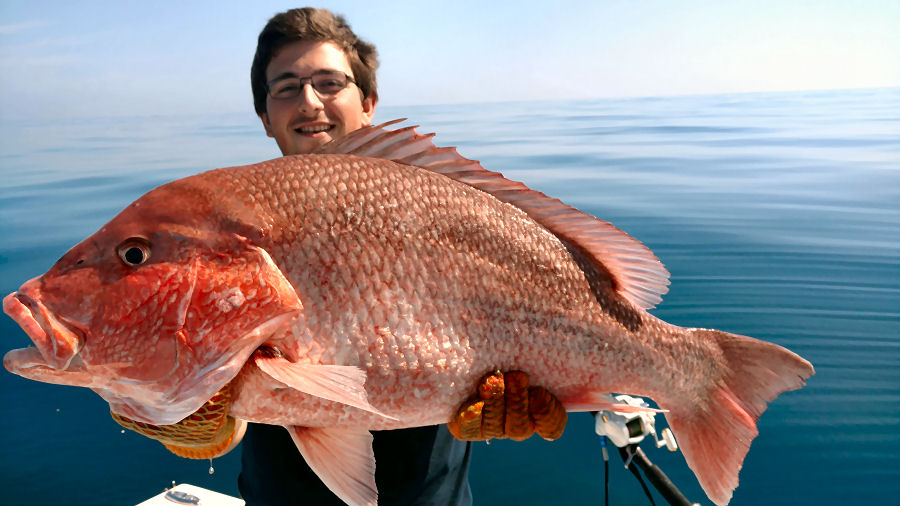 Deep Sea Offshore Fishing Charters
Offshore Fishing or Deep Sea Fishing from Jekyll Island offers some of the best Reef fishing and Offshore fishing charters available. If you decide to book an Offshore fishing charter from Jekyll Island, catches may include; Red Snapper, Sea Bass, Cobia, Sheepshead, Trigger Fish, King Mackerel, Barracuda, Spanish Mackerel and more. This type of trip is 100% weather dependent and must be carefully coordinated with the Guide running the charter.
Jekyll Island and its infrastructure has undergone extensive renovation over the past couple of years. The area now caters to fishermen and it's visitors more than ever and the Island looks fantastic. To inquire about a Jekyll Island Fishing Charter, please contact us here with questions for a speedy reply or phone anytime at (912) 275-5577